Corporate Policies & Management
Occupational Health and Safety We strongly aim for good citizenship with social responsible mindset and value the importance of stakeholder in Corporate Governance.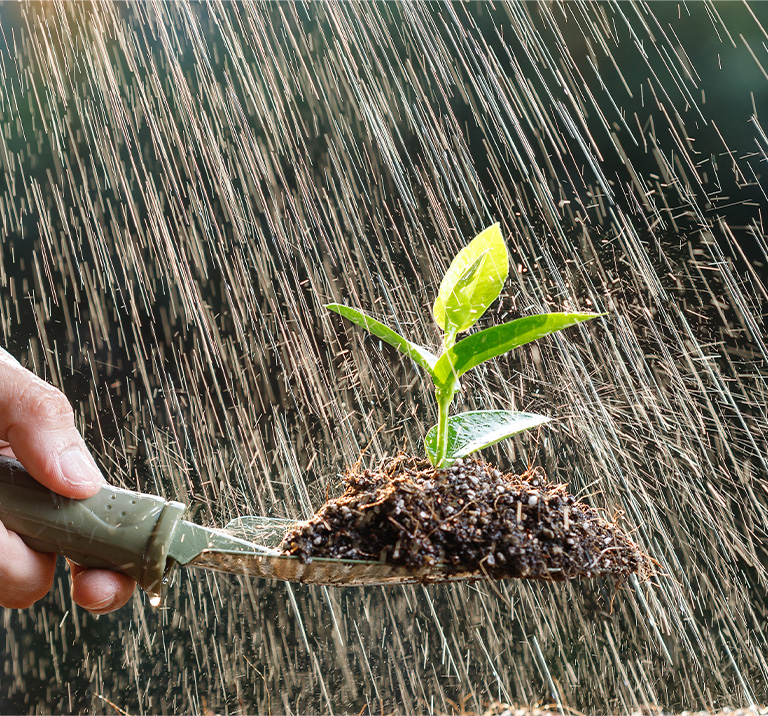 Environmental Protection Policies
Toyota Motor Thailand Co., Ltd. adheres to all environmental laws and standards,also constantly seeking to improve and exceed our environmental goals.
Toyota Motor Thailand Co., Ltd. is committed to improving our environmental policy to prevent the release of harmful emissons.
Dedication to lowering the environmental impact of materials and production process by researching the possible effects of any new material or process prior to implementation.
Searching for new ways to reduce use of energy and emissions to improve environmental efficiency and lessen impact.
Toyota Motor Thailand Co., Ltd. is dedicated to continuously develops and educates employees in order to achieve maximum benefit for the environment.
Be aware of the importance of communications with local communities and cooperate with local environmental protection efforts.
Statement of Occupational Health and Safety Policy
It is the policy of Toyota Motor Thailand Co.,Ltd. (The Company) to continually conduct its business in a manner that operates and improves occupational health and safety management and strive to provide safe and healthy working conditions for the prevention of incident, accident, work-related injury and ill health through the active participation of every employee. Accordingly, the company will take all responsible practices and commitments to:
Develop and implement Occupational Health and Safety Management System in accordance with ISO 45001 and all concerned applicable laws and regulations, and apply additional responsible standards where laws and regulations do not exist.
Eliminate hazards and reduce occupational heath and safety risks, improve safe working conditions and well-being in the workplace to prevent work-related injury and ill health that are suitable for specific risks and opportunities in association with occupational health and safety by setting up annual occupational health and safety objective and target to communicate with all relevant persons to perform and practice.
Provide suitable and sufficient resources including manpower, time, budget and training program.
Review and evaluate the occupational health and safety performance to learn the progress and ensure the compliance with this policy.
Undertake appropriate occupational health and safety management system to align with the company's vision, mission and strategy.
Support the consultation on all matters to work safely and contribute the participation of our employees, contractors and others who work in company to emphasize that safe work is everyone's responsibility, in addition to encouraging safe behavior and awareness for off-the-job.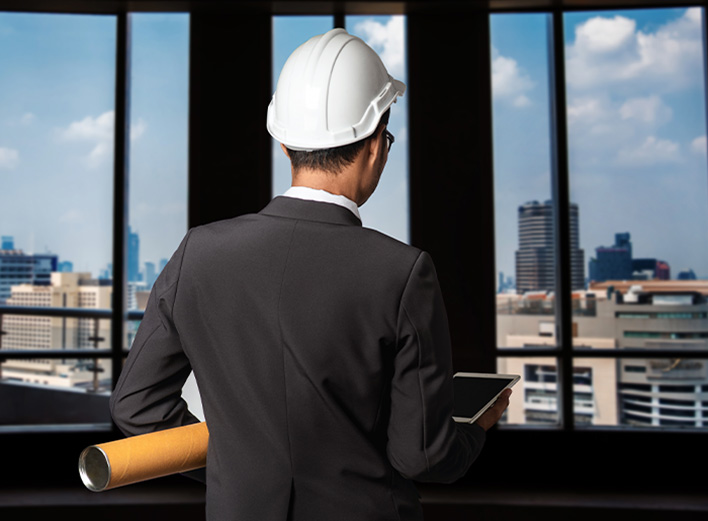 Environmental Protection Policies
The environmental policy of Toyota Motor Thailand has been continuously updated and improved. Our Samrong and Gateway Assembly Plants were both granted ISO 14001:1996 certification for environmental protection in 1997 and 1998 respectively, and have since been granted the new ISO 14001:2004 standard in 2006. Furthermore,
The Toyota Ban Pho Assembly Plant was also awarded ISO 14001:2004 certification in 2009.
Management Standards
ISO 14001 : 1996
ISO 14001 : 2004
Year of Certification
1997
2005
Management Standards
ISO 14001 : 1996
ISO 14001 : 2004
Year of Certification
1998
2005
Management Standards
ISO 14001 : 2004
Year of Certification
2008
Occupational Health and Safety Policies
Management Standards
ISO 14001 : 1996
ISO 14001 : 2004
Year of Certification
1997
2005
Management Standards
ISO 14001 : 1996
ISO 14001 : 2004
Year of Certification
1998
2005
Management Standards
ISO 14001 : 2004
Year of Certification
2008
Toyota Takes Great Care in Every Process of the Production Process
Before Production
Toyota carefully selects the best raw materials and chemicals in the production process, in order to have the least impact on humans and the environment possible.
Hazardous substances and controlled chemicals used in production consist of the following: lead, mercury, cadmium and chromium, are contianed in 512 chemicals.
Quality control system for parts from external suppliers.
Examination of heavy metals, using a state of the art metal x-ray machine.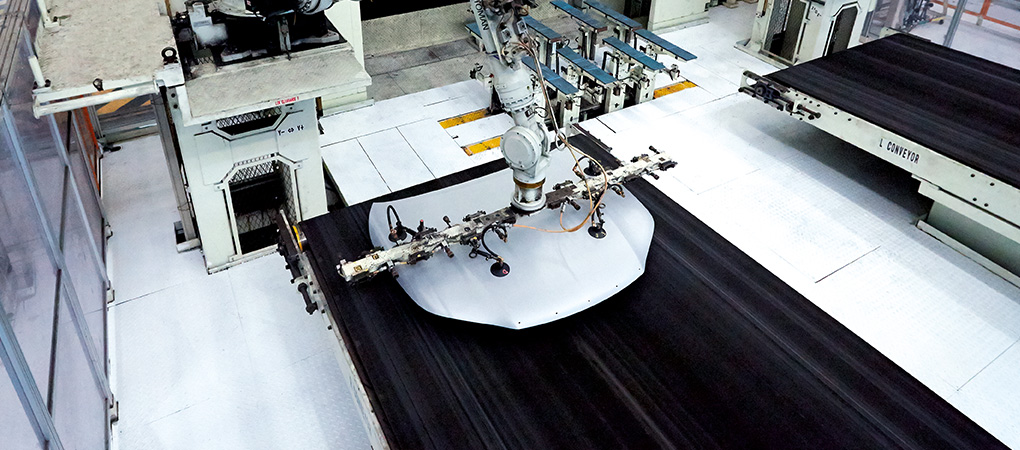 Production
The Toyota production process consists of 5 main steps, each of which is equipped with equipment to lessen the amount of solid waste, and other environmentally harmful substances such as air pollutants, noise pollution and wastewater. Toyota also has developed a process for the disposal of liquid and solid waste.
Creating a Mold
Creating a mold for the different parts of the car body (AO Line) consists of creation of the mold, trimming of parts, preparation of holes and binding of finished parts. Toyota uses an automatic, computer controlled system for the maximum in efficiency and accuracy.
Environmental Policies
Noise Control
Special casing for all heavy machinery to reduce noise.
Use of ear protection to reduce noise for employees.
Waste Control
Fuel used during production process is reused as fuel for concrete stoves at plant.
Large metal pieces are recycled and used to make smaller parts.
Spare metal pieces are sent to be recycled and reused.
Welding Body
The welding process begins with welding of body parts by Toyota employees. Once the first step is completed, robots are used to weld main body parts together accurately and efficiently, conserving energy and lowering harmful emissions.
Environmental Policies
Dust and Fume Control System
Use of filters to catch dust during the assembly of the Catalytic converter.
Use of wet scrubber to spray mist into the air to catch fumes from the assembly of the Catalytic converter and recycling of water used by wet scrubber.
System to reduce spatter from welding.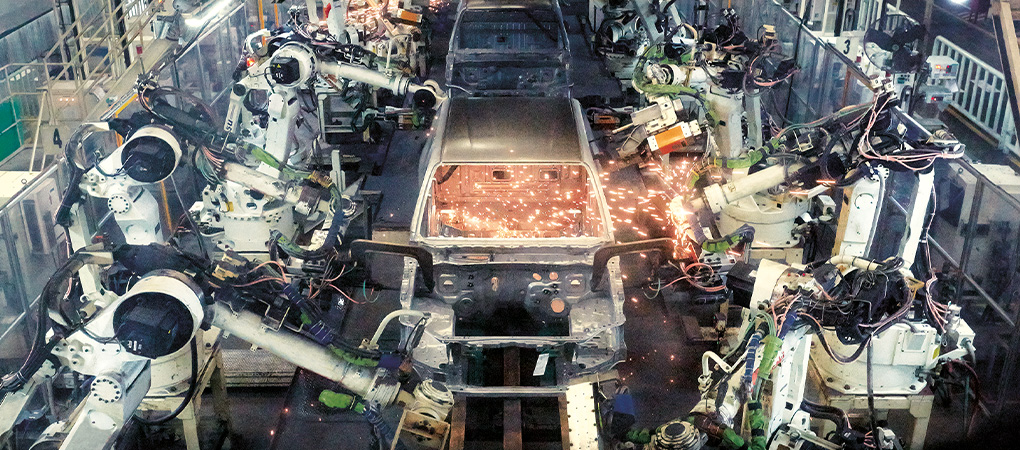 Painting
The painting process begins with washing the oil and dirt off of the body of the vehicle. Once clean, the body is coated with rust resistant primer via Cation E.D.P system. Once primed, the body is placed on the assembly line where seams are sealed and the body is primed and painted.
Environmental Policies
Air Purification System
Robots used to paint parts, for higher quality and 80% more efficient use of paint.
Water walls are used to capture dust in the paint assembly line.
Use RTO ovens to evaporate Hydrogen Carbon from painting process. Ovens help reduce Hydrogen Carbon emissions up to 95%.
In 2010, Toyota began to replace paint/thinner compound with a water soluable paint, which helps to dramatically reduce dangerous emissions.
Wastewater Treatment Facility
Toyota places a great deal of importance on wastewater treatment, and has invested in wastewater treatment system valued at 100 million baht to deal with wastewater created during manufacturing and consumption at our factory. Wastewater is treated chemically and biologically, before it is re-used in the factory in the following ways:
Water is used to cool the room of the factory facility to reduce temperature and save energy.
Water is used to water plants at factory facility.
Water is used to raise fish in factory ponds.
Water is used to wash lavatory facilities in factory.
Water is used to wash Factory Floor.
Wastewater is passed through the Chemical Treatments system to precipitate suspended solids and heavy metal.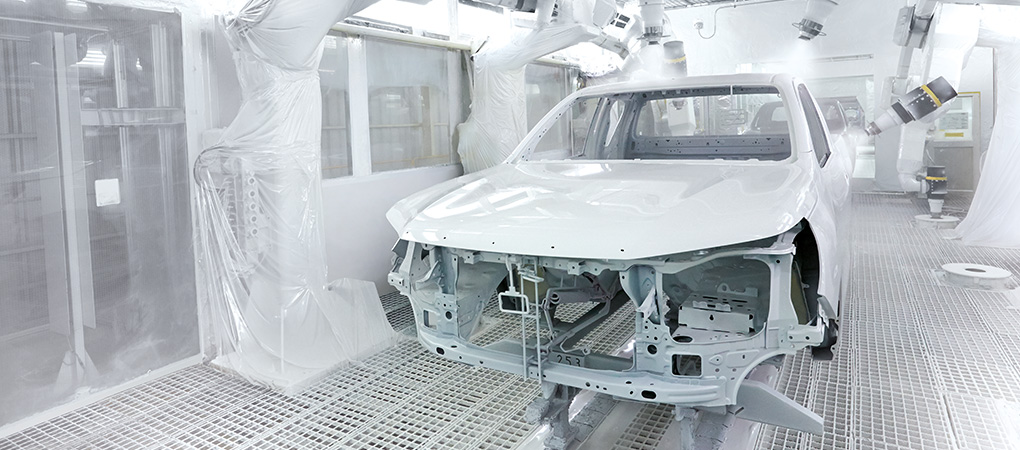 Pre-Assembly
This stage of the assembly process includes separation of parts into groups for easier inspection, and more convenient access during assembly.
Environmental Policies
Plastic waste is shredded and recycled.
Large part shipments from spare parts suppliers to reduce number of trips to Toyota factories and reduce fuel and emissions that result from shipping process.
Assembly
Assembly of the engine compartment, suspension and passenger compartment is done once the body of the vehicle has been painted. After painting, the body is put on an assembly line that the suspension, engine, and passenger compartment components will be assembled.
Environmental Policies
Waste Management
Toyota has asked for the cooperation of spare parts suppliers to package parts in reusable packages, such as plastic boxes, to reduce the amount of foam and paper waste.
Waste is separated and categorized prior to disposal.
Use of Solar Cells
Toyota has installed solar cells at the Samrong Plant facility, in order to lower energy consumption, and uses stored energy to help power our meeting rooms.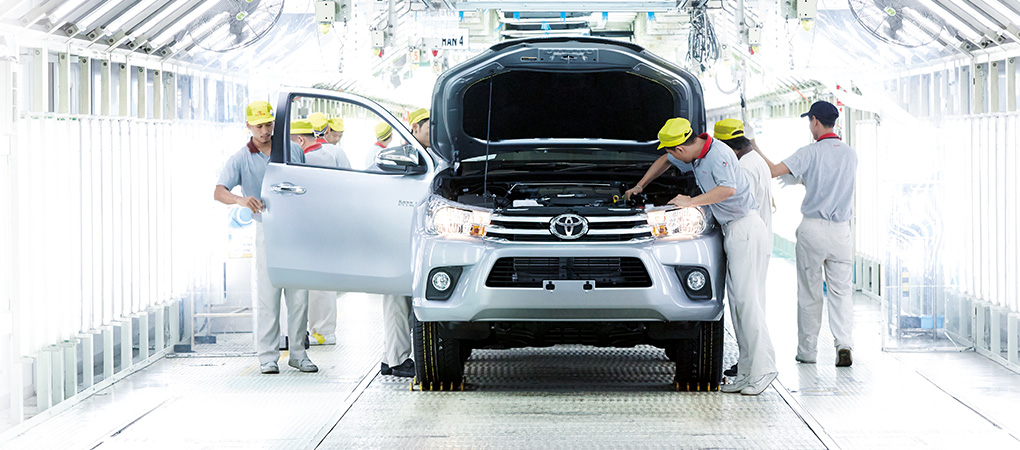 Shipping
The shipping and delivery system ensures damage free delivery of vehicles from factory to dealer, using large car carrier trailers, capable of shipping an large number of vehicles at one time to reduce the number of trips, fuel consumption, and emissions.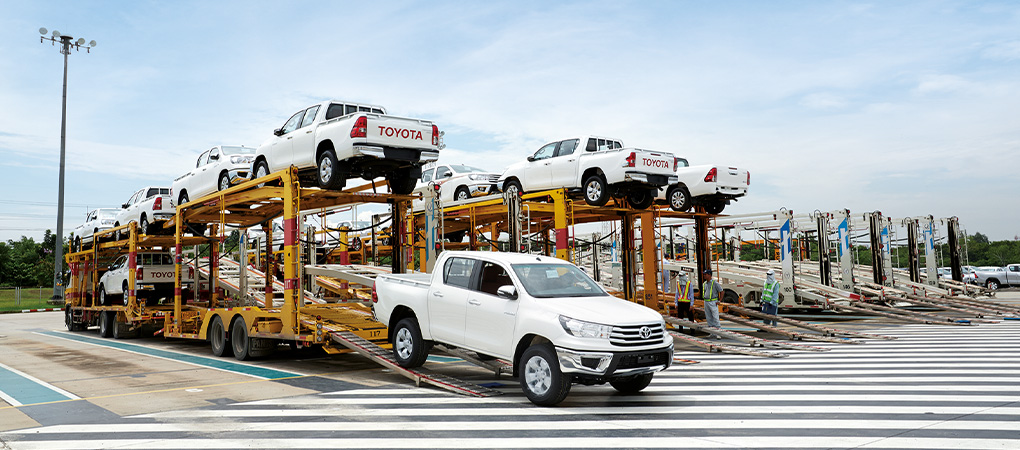 Implementation
Toyota has created an environmental plan for Toyota showrooms and Service Centers, with clearlyspecified policies to ensure a nationwide standard and asked for the cooperation of more than 300 showrooms and service center nationwide in the implementation of this plan to ensure the least impact on the environment possible.
Dealer's Manual
Toyota has clearly laid out guidelines for our showrooms and service centers for every step from building architecture, land use, logistics and Service Center size standards, through to detailed plans for reducing environmental impact.
Toyota Excellent Dealer After sales Service (TEDAS)
This plan was created by Toyota to help guide Toyota Service Centers to a nationwide standard and includes manditory compliance for environmental protection and suggestions on how to operate in an environmentally friendly capacity. Toyota is confident that with this manual as a guideline. Our Service Centers and Dealers can operate in an manner which is beneficial to the environment today and in the future.
ISO 14001 Certification
Currently Toyota offers 98 Service Centers that have been granted ISO 14001 Certification for Environmental Friendly Operation and Toyota has set the goal of ensuring that all Service Centers have achieved ISO 14001 Certification by 2006.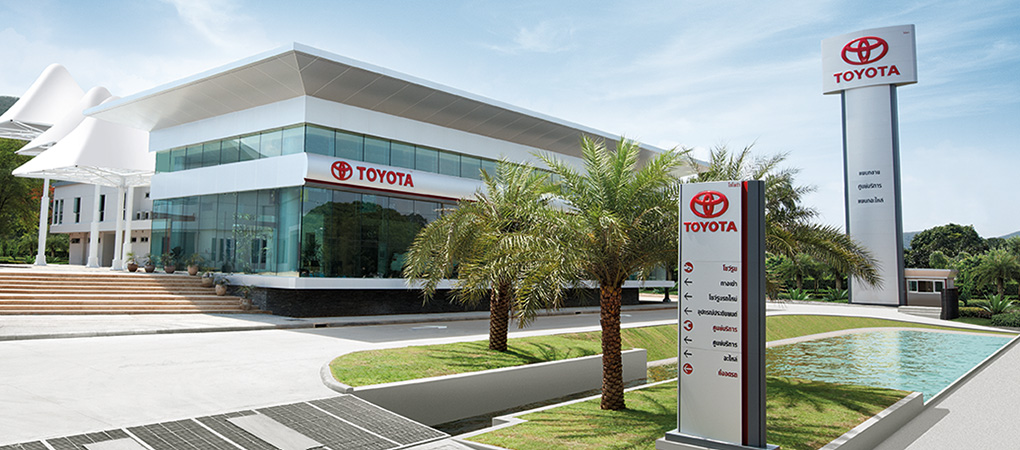 Environmental Management inside Service Center
Wastewater Prevention
Wastewater from washing vehicles and spare parts and wastewater from consumption are treated prior to being released into public drainage system.
Air Pollution Prevention
Dust and evaporated gases are controlled to reduce air pollution as much as possible and is in line with legal regulations.
Solid/Liquid Waste Prevention
Engine Oil, lubicant and other chemicals that have been changed are kept in a safe place prior to proper disposal.
General waste and hazardous waste are separated prior to being sent to a legal disposal center.
Noise Polution Prevention
Workers are provided with ear protection to prevent damage to hearing ability.
Designed Service Centers to make sure service area and reception area are as far apart as possible.
Disposal
One of Toyota's most important waste prevention methods is recycling or reuse of materials during the lifespan of the vehicle, and during vehicle disposal.
During Vehicle Lifespan :
Vehicle bumpers and covers are collected and recycled to produce bumper covers, engine room covers and trunk liners among others
Disposal of Broken Parts, Vehicle Disposal :
Toyota Motor Japan has developed recycling technlogies for the disposal of broken auto parts. This technology allows Toyota to be able to produce a car made up recycled materials accounting for 85%* of the vehicle weight, to reduce the amount of waste in the future.
*Applicable for vehicles produced by Toyota Motor Japan