Company Information
" In our eyes, our customers are the co-founders of Toyota Motor Thailand "
To be the leading company of Toyota Asia Pacific and the Toyota global network.
To be the most respected and admired company in Thailand.
Constantly improving by challenging and changing.
Respect and accept others.
Adhere to the principle of customer satisfaction.
Dedicate to the highest standards.
Being responsible to the community and environment
Build operational strength and promote cooperation between the Asia-Pacific.
Achieve leadership in customer satisfaction and market share.
Set safety as the most important activity of the company's foundation activities.
Create a quality society by doing socially valuable activities.
" In our eyes.. our customers are the co-founders of Toyota Motor Thailand "

Founded
5 October 1962

Registered Capacity
7,520 Million Baht

Employees
13,500

Information Updates on November 2019
Production Capacity
Toyota Samrong
240,000 Unit/Year
Toyota Gateway
300,000 Unit/Year
Toyota Ban Pho
220,000 Unit/Year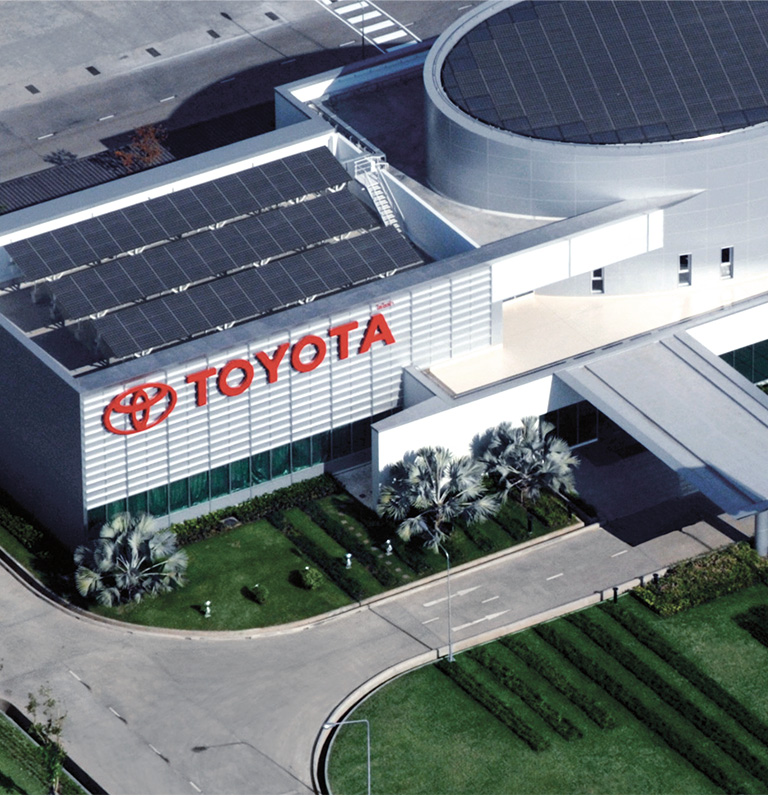 Toyota Motor Thailand Co., Ltd.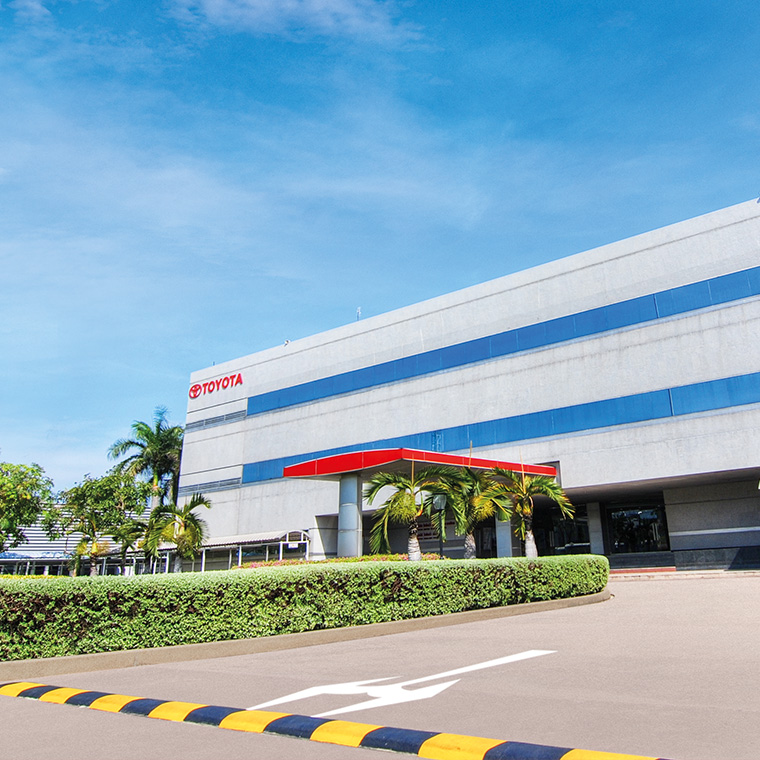 Headquarters and Toyota Factory (Samrong)
Location Map
Toyota Group in Thailand
Toyota Motor Thailand Co., Ltd.
Headquarters and Toyota Factory (Samrong)
186/1 Moo 1 Old Railway Road, Samrong Tai, Phrapadaeng,
Samut Prakarn 10130
Telephone
(66) 0-2386-1000
Bangkok Office
TOYOTA ALIVE Bang Na-Trat Frontage Road
Bang Na, Bangkok 10260
Telephone
(66) 0-2305-2000
Toyota Assembly Plant (Gateway)
74 Moo 9, Hua Samrong, Plangyao,
Chachoengsao 24190
Telephone
(66) 0-3854-4000
Toyota Assembly Plant (Ban Pho)
99 Moo 2, Lad Kwang, Ban Pho,
Chachoengsao 24140
Telephone
(66) 0-3812-2002
HINO Motor Manufacturing (Thailand) Co., Ltd. (1964)
99 Moo 3 Theparak Road, Theparak, Muang District,
Samut Prakarn 10270
Telephone
(66) 0-2384-2900
Toyota Auto Body (Thailand) Co., Ltd. (1978)
82/1 Moo 2 Old Railway Road, Samrong Tai,
Phrapadaeng, Samut Prakarn 10270

Telephone
(66) 0-2386-1000
Siam Toyota Manufacturing Co., Ltd. (1987)
700/109, 111, 113 Group 1, Amata Nakorn Industrial Estate,
Bankao Sub-District, Phangthong District, Chonburi 20160
Telephone
(66) 0-3846-9000
Toyota Auto Works Co., Ltd. (2012)
187 Moo 9 Old Railway Road, Theparak,
Muang District, Samut Prakarn 10270
Telephone
(66) 0-2705-7300
Toyota Body Service Co., Ltd. (1992)
242 Moo 11 Srinakarint Road, Bangna,
Phrakanong, Bangkok 10260
Telephone
(66) 0-2361-5501-20
Toyota Leasing (Thailand) Co., Ltd. (1993)
990 Abdul Rahim Building FL. 18-19 Rama IV Road,
Silom, Bangrak, Bangkok 10500
Telephone
(66) 0-2660-5555
Toyota Automotive Technological College (1998)
25 Moo 7 Suwintawongse Road KM 66, Khlong Nakorn Neuang Khet,
Muang District, Chachoengsao 24000
Telephone
(66) 0-3809-2103, 2105-2113
Ratchamongkol Rice Co., Ltd. (1999)
Head Office
186/1 Moo 1 Old Railway Road,Samrong Tai,
Phrapadaeng, Samut Prakarn 10130
Telephone
(66) 0-2386-1000
Ratchamongkol Rice Mill
Gateway City Industrial Estate 76 Moo 9,
Hua Samrong, Plangyao, Chachoengsao 24190
Telephone
(66) 0-3857-5041-2
Toyota Daihatsu Engineering & Manufacturing Co., Ltd. (TDEM)
99 Moo 5, Ban-Ragad, Bang-Bo,
Samutprakarn 10560
Telephone
(66) 0-2790-5000